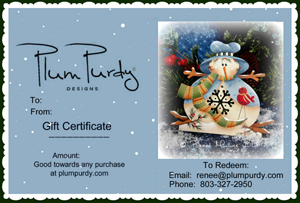 NEW!! Plum Purdy Gift Certificates.
A perfect "instant" gift for wife, mom, sis, yourself, or all of your painting friends! Easy on-line ordering... They are redeemable for any item on the Plum Purdy web-site!
An automatic email will be sent with the Gift Certificate Number, which can be used immediately . 
I will also send a "photo" certificate, but please allow up to 24 hrs. for this to be emailed.** For MAILED Gift Certificates,Please place order via phone or email. There will be a shipping charge on all mailed Gift Certificates.
Please note: The gift certificate email is send immediately to the recipient. If you wish this to be a surprise, please purchase on the day you intend it to be delivered OR create it to yourself and print out or forward the email on the intended delivery day.