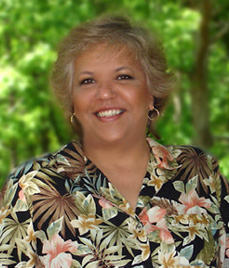 I never considered myself an "artist", but as a child I was never without a pen, pencil or crayon!  I always loved any type of art, craft, or sewing.
As a stay at home mom in the mid 70's, I signed up at a local craft store for Tole painting classes, which were all taught in oils at the time. There were very few books to choose from as it was fairly new at the time.   I painted from Priscilla Hauser's books day after day after day.  She used a lot of fruit in her designs and to this day, fruit is one of my favorite subjects to paint, which surprises a lot of people because of my whimsical style!
After the little ones started to school, I went back to work in our family Home Decorating Center and packed up the paints and brushes for about 15 years. The years that I invested working in the Home Decorating Center around all the colors and textures of wall covering, flooring, and carpets and having to design "rooms of color" pacified my need to create at the time.  
When my youngest daughter started school in the early '90's and we closed our business, I wanted to get back into painting and bought several decorative painting books. I was drawn to Myra Mahy's books and to this day, she has always been an inspiration to me! The new instructional books were like a new language to me because now most everything was painted with acrylics and painting in oils was instilled in my mind. I just could not understand how to shade and highlight in acrylics, verses how I was taught in oils.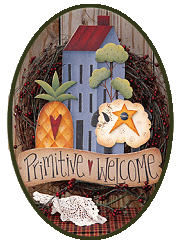 I was out and about one day up in North Carolina and by accident stumbled upon a tole painting shop. I just HAD to go in, not knowing at the time where this would lead me! I was so excited looking at all the painted pieces, books and supplies that I signed up for a 6 week beginner class, in which we painted 3 different projects and surfaces.  
If I could give anyone who is wanting to try their hand at painting one piece of advice it is to take some beginner classes and get the basics down, such as loading a brush, shading and highlighting and some stroke work. Since this tole painting shop was over an hour's drive away, it was very hard for me to make the trip weekly but after the 6 week beginner course, I basically had the "know how" to go from there and self-taught myself…..by picking up painting magazines, new books and  practice, practice, practice!
I happened to visit the same shop about a year later and signed up for a class that was teaching a project in Jo Sonja paints. It was apples on a tin pie plate. For the entire class my attention was drawn to the lady next to me just "wisping" away at her apples with this HUGE fluffy brush. I was amazed at how soft and perfect this made her floats when she wisped over her painting. I thought it was some kind of make-up brush, but I found the exact same brush a few months later when looking at paint brushes and purchased one to practice with. It took awhile to get the hang of it but I kept practicing and today I would be lost without my mop brushes.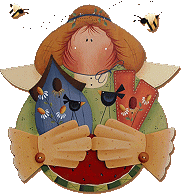 The most frequently asked question is "how do I achieve such soft floats….and soft floated cheeks on my characters"? This is how….with my mop brush, although I don't use it the same way as any other designer that I know of that uses mops. I use more of a "feather in and out" touch than a "pouncing up and down touch".
Another favorite brush of mine to use is the Angular brushes. I tend to float better when I have a tight corner to get into.   Some painters prefer the flats to float with…it's all in what you get used to using. If something works better for you, stick with it!
After painting and painting and the projects piling up with no where to go, I decided to try my hand at renting a booth in a crafter's mall, this way I felt like I had a goal…..working on new things all week, re-stocking the booth with new things every week, and getting a lot of practice in at the same time!  I gradually got up the nerve to sign up for a local craft show. After a few years, I gave up the crafter's mall and was exhibiting at many shows across the southeast. This is where I started dabbling in designing. Most of the shows had the same thing, booth after booth so I thought I needed something different.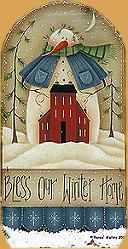 One year after painting day and night for craft shows, on a whim I decided to submit some of my designs to several publishers to see if they would like to work with me to publish a painting book. I published my first book with Eas'l Publications in 2000. This year I took another step and am self-publishing myself. 
The one piece of advice I would give anyone who is looking into the possibility or idea of entering the designing field is "go for it".  It does take several years to get established and it's a lot of hard work getting your name out there, so don't get discouraged. I had no expectations when I first started designing, I just let the opportunities that came along, lead me down different paths along the way.